This may be the question you have asked yourself many times:
"How can I avoid a foreclosure on my home?  What are my options?"
Five Options to Avoid Foreclosure
Here is a list of some options for you, in no particular order.  None of this is legal advice.
Sell your house quickly, before the auction.  We can help you with this.
Talk with your lender.  Some lenders are currently open to modifying your loan, by adding the late payments onto the principle.  Called recasting or restructuring.
Deed in Lieu of Foreclosure — give your house back to the bank and move out.  Contact lender for details.
Short Sale — where the lender will accept less than what is owed.
Reinstate your loan — pay back all the late interest and penalties and bring your loan back to current.
Two techniques you don't want to use to Avoid Foreclosure
Sale / Leaseback — An arrangement that fails over 80% of the time.  You'll loose.  We don't do this, as it is illegal in the state of Virginia.
Pay a fee to a foreclosure consultant before they start working.  Some companies will try to work with your lender, but you have to pay them an upfront fee.   Most consumer groups urge you not to consider such "foreclosure consultants."  We do not provide this service.
You must act to Avoid Foreclosure
The foreclosure process in the state of VA is brutally quick.
The late charges, back interest, and attorney fees will not stop.
Every day you delay action will cost you hundreds, if not thousands of dollars.
I can't stress enough: Act now!
Since 2003, we have helped people avoid foreclosure through selling their house to us.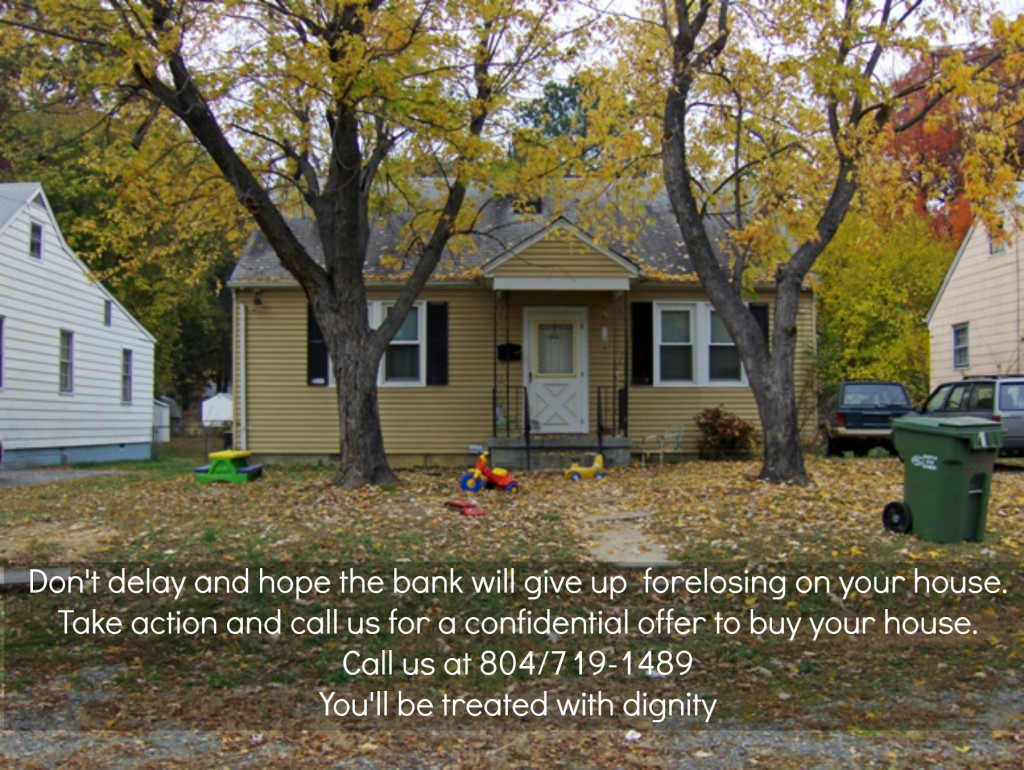 Possible offers we'll make to help you avoid foreclosure
We don't have a canned program.
It's a custom plan that works based on your circumstances.
But here are some of  the common offers to bu your house that you will receive:
All cash sale.
Take over your payments on your existing loan(s) to help restore your credit with the lender.  We will send any back payments to the lender.
Short sale.  We negotiate with the bank to accept less than what is owed.
Option agreement — we may find a buyer for you from our extensive investor network we have built during the years. The structure may be any of the the above.
When we talk, we will need the following information.  You can get it direct from your lender, or we can help you get it.
Payoff amounts of any mortgage on the property.
Reinstatement amounts — the money that is needed to bring your mortgage(s) back to current.
You don't have to get this information before talking to us.
Pick Your Next Step to Sell your house to avoid foreclosure
1. Â Call me at 804/719-1489 during normal business hours on the East Coast. Â I try to answer my own phone.
OR
2.  Fill out the form here and let's start a conversation.  Conversation is free.