Some houses are a problem to sell via normal and traditional channels. Â It's hard to sell your house fast when there are problems with it.
Various problems I've seen
Here is an extreme problem:
The seller couldn't sell that house fast – it was missing an exterior wall.
Other houses are hard to sell fast because they are full of junk and smells, like when a hoarder lets the cats scat everywhere.
I've seen all sorts of houses that are hard to sell fast because of the problems that exist:
Last updated 80 years ago.
Wall paper that would make my grandmother cringe.
Live roaches crawling in every room.
Infestations of rats, roaches, spiders.
Termites that have eaten away the framing.
A hot water heater installed in the attic, which burst and caused the ceiling to fall in.
Structures so old that the studs were shaved trees.
Incomplete Renovations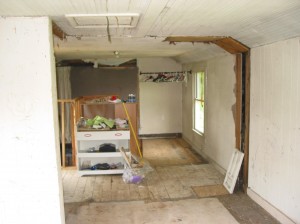 3 Tips to Sell Your House Fast when it has problems
Houses like this are hard to sell quickly to future home buyers.
Normal home buyers are repulsed at odors and scared of extreme repairs.
1. Â Find a real estate investor who loves handyman properties
I love properties with problems that can't sell fast.
I love to purchase handyman specials.
Even if I do not personally buy it, I am networked with enough people that you don't have to find them.
You don't have to call every we buy houses persons in the phone book.
Call me and I'll help you sell your handyman house fast.
2. Â Price it right.
If your house is in need of significant repairs, you have to price your house right for a handyman investor to buy your house.
Most real estate investors like myself follow the same formulas in calculating our offers.
With so many foreclosures available in the current real estate market, your handyman house would need to be priced even lower than your competition.
Why?
Ask yourself this:
Would an investor spend the same amount of money on my fixer upper as they would on the move-in ready foreclosure down the street? Â The answer is no.

If 80,000 could buy you a ready to move in house (only needs 5,000 to make ready) vs. your 80,000 house that needs 25,000 in repairs, which would you buy?

No
You won't be able to receive top dollar for your handyman special.
But you don't have to give your house away either.
Call me for a fair offer on your handyman fixer upper.
3. Â  Detach your emotions from your handyman house.
One seller was so emotionally attached to her house that she couldn't sell it at a realistic price.
She saw that houses around her were selling for 135,000 and that is what she wanted for her house that was 80 years out of date.
We estimated that to fix the windows, install the air conditioning system, fix the floors, modernize the electrical system, straighten the structure, replace the roof and many more repairs and updates would cost nearly $80,000.
Because it was the house her parents had given her, the house she grew up in, her emotions flatly rejected our offer. Â Her emotions prevented her from seeing that her house was not comparable to the $135,000 homes around her.
If you have a house that has problems, forgo the emotions.
Call me, and I'll help you face some of those fears and will gently walk you through the process of our offer price.
Start Selling Your House
If you want to start a discussion with me about selling your house fast, call me directly during normal business hours.
804/719-1489.
I try to answer my own phone.
Or fill out this form and we can start a confidential conversation.