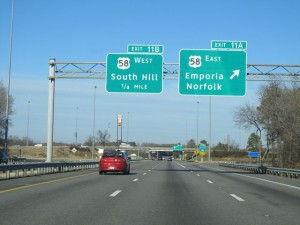 I've driven through Emporia Virginia several times in my life.
For many people, Emporia is simply an exit off of Interstate I-95, with a few police radar hiding spots nearby to catch speeders zipping through.
A few years ago, I bought a house pretty fast in Emporia, by taking over the mortgage payments.
It was a cute craftsman style house that had been beat up to become a handyman special.
How that Emporia seller sold his house fast
In working with the seller, we followed a pretty good process:
1. Â We talked about his Emporia property in its current condition – it was a handyman special.
2. Â We talked about expected repairs that he knew about, including the repairs he'd make if he had the money to do it. Â The repairs were too much for him.
3. Â I ran the expected numbers through my formulas and found a price that worked for the seller and myself.
4.  I put house under contract with a 14 day inspection period and had signatures within 24 hours.
5. Â I had the house inspected for repairs and to confirm the repair budget.
6. Â We closed on that Emporia house in under 2 weeks. by taking over the payments.
I had the house rehabbed, and then resold on the open market, and made a reasonable return on what I invested.
The key step this seller took to sell his house fast was to allow me to take over his mortgage payments.
That lowered my cost of money, and allowed me to give him those savings.
How You Sell Your House Fast in Emporia
I want to buy another house in Emporia.
Because of recent changes in the Real Estate market there, I think an investor might do well buying homes to rehab and well as homes to hold onto as rental properties.
If you are not receiving results from listings homes with real estate agents, you can benefit from our service in Emporia Virginia.
We can assist you with securing a faster date of sale, as long as your price fits our formulas. Â We'll offer you a fair price.
If you have
A home with too many repairs for you
A rental house destroyed by your evicted tenants
any where in Emporia or surrounding areas, I'd like to help you sell your house fast.
Take Action
The first step is a free consultation with me.
To start, call me directly at 804/719-1489. Â I answer my own phone, rather than send you to a call center half-way around the world.
If it is outside of normal business hours, Â fill out this form for our fast offer.
I'll call you to learn more about your Emporia property, or anywhere in the surrounding counties.