Lots of websites claim that you can sell your house in 10 days.
These "we buy houses" websites claim that you can sell your house in 10 days and be done with the entire transaction.
Imagine that:
call,
contract,
close,
cash in hand in less than 10 days.
Can it be possible in this market to sell your house that fast?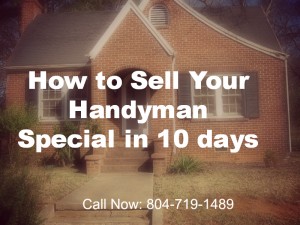 The Secret to your 10 day house sale.
Let me fill you in on the secret to selling your house in 10 days.
Price or terms.
Before I explain how that works, let me share with you two reasons normal real estate transactions take so long
1. Â Price at market level.
If you want top market dollar to sell your house fast, you will not sell your house in 10 days.
Those days are over.
Bidding wars for houses are rare.
Your house is like 200 others on the market that people can look at.
It might take 30-120 days for a buyer to even choose your house.
2. Banking delays.
If your buyer needs a bank loan, you'll have to wait 45-60 days in current market conditions for a bank approval.
And sometimes, banks will not loan on a house even if the buyer agrees to a price.
I've got second hand stories of banks killing an agreement because they don't like the price.
To close your transaction quickly, you'll need to avoid the banks and have a cash buyer.
How to sell your house in 10 days.
Cash home buyers are professionals who either buy houses to fix and resell them, or buy houses to hold them as rentals.
These cash home buyers are looking for returns on their investment, not a home to live in.
For any of these "we buy houses" people to deploy their cash, your house will need to make them a reasonable return.
Thus, you as the seller must price your house according to the formulas they need to make a good return.
If everyone around you is asking for $100,000, and you will sell your house for $60,000, you'll sell your house in 10 days, depending on the condition of the property.
By the time the house is fixed up and resold, the investor may only make 10-15% return after expenses.
If everyone around you asks for $100,000 and you will sell for $90,000, you'll not sell your house in 10 days to anyone in this industry for cash.
Terms
If you will be flexible and allow for terms such as
taking over payments
holding a note for the equity, or
lease option your property
You can get a much higher price and close your transaction in 10 days or less.
The seller of one house I dealt with was willing to wait 5 years for her funds – she got an above market price in less than 10 days because she offered terms.
Another house seller let me to take over the mortgage payments and that gave them a closing in less than 14 days. Â After I rehabbed the house, I sold it and paid off the mortgage.
To Sell Your House in 10 days
If you want to sell your house in 10 days or less, these are some of the criteria you'll have to consider to help make it work.
If you are not sure and want to talk with a professional, you can give me a call at 804-719-1489 during normal business hours.
The consultation is free and confidential.